Regular price
£100.00 GBP
Sale price
£70.00 GBP
Unit price
per
Sale
Sold out
The Super Squad of Vaginal Health
The ultimate self-care routine for your vagina: Fueled by nature to promote hormonal and pH balance with the key to preventing recurring UTIs.
VFF: Meet your Vagina's Friend Forever, the one-of-a-kind probiotic blend that's custom-made to keep your vaginal microbiome happy and healthy. Our signature formula contains 50 billion live cultures with 5 of the most crucial lactobacillus bacterial strains + added Prebiotics in order to strengthen your overall intimate health.
Va Va Boom: Don't let an imbalanced hormonal roller coaster dampen your love life. With Va Va Boom, say goodbye to feeling 'meh' and hello to feeling like your sexy, confident self again. Packed with a stimulating blend of adaptogens and herbs like Maca, Tribulus, Pine Bark and more to ignite your libido, boost energy, and improve your mood.
UTI Bah Bye: Avoid the burning trips to the bathroom and say Bah Bye to recurring UTIs. This super-powered daily supplement will defend your urinary tract and provide ultimate bladder health. Made with all- natural and clinically proven ingredients like Cranberry,  D Mannose, Uva Ursi – the triple support to prevent bad bacteria from entering your urinary tract.
This bundle is in a league of its own, covering all the bases of your reproductive health.
The bundle includes: 1 UTI Bah Bye Supplements, 1 Va Va Boom and 1 Your VFF Supplements 
The Why

Ladies, are you tired of endlessly scouring the internet for solutions to your most intimate health issues? Look no further than TheV-ultimate package bundle, the holy trinity of vaginal health supplements which effectively tackle low libido, pH imbalance and recurring UTIs head on! This trifecta of pure and potent all-natural blends has got your back (or should we say, your front) with the help of Va Va Boom, Your VFF, and UTI Bah Bye.
The Gains

Your VFF boosts good bacteria, prevents infections, and maintains pH balance for a healthy and happy vagina.
Va Va Boom encourages blood flow and supports adrenal glands, helping to maintain hormonal balance and improve overall sexual health.
UTI Bah Bye stops recurrent UTIs in their tracks, balances vaginal flora, and aids urinary tract function.

With The V-ultimate package bundle, you'll experience the premium, all-time around the clock support that your vaginal health deserves.
The How & When

To take The V-ultimate package bundle, you must take three supplements: Your VFF, Va Va Boom, and UTI Bah Bye. For each supplement, take two pills once a day, every day. You can take them with or without food, but it is recommended that you take them in the morning.  Follow healthcare professional's directions if any.
The What's Inside

Your VFF: Lactobacillus Casei, Lactobacillus Rhamnosus, Lactobacillus Gasseri, Lactobacillus Reuteri, Lactobacillus acidophilus, Inulin, Capsule shell
Va Va Boom: Maca, Tribulus, Arginine, Pine Bark, Vitamin B6, Vitamin B2, Biotin, Ginger root Extract, Vitamin B3, Ashwagandha, Chromium, Sea Buckthorn, Evening Primrose Oil, Red Clover
UTI Bah Bye: Cranberry, D Mannose, Vitamin B6, Nettle leaf extract, Parsley, Uva Ursi, Garlic
Share
View full details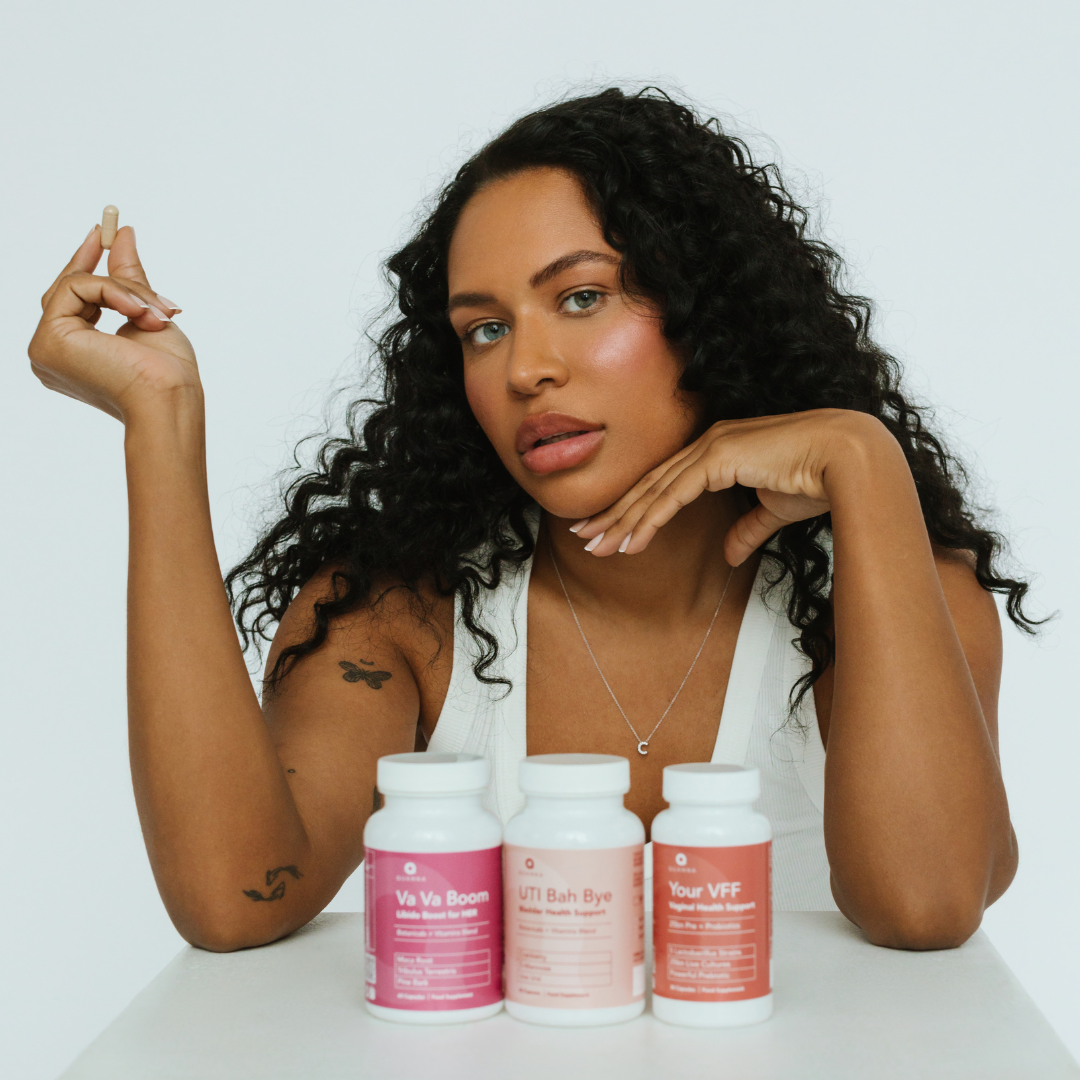 All natural ingredients
pH Balanced
Paraben & Glycerin free
3rd Party Lab Tested
Vegan Formula
Made in the UK
Gynaecologist approved
All natural ingredients
pH Balanced
Paraben & Glycerin free
3rd Party Lab Tested
Vegan Formula
Made in the UK
Gynaecologist approved