Regular price
$66.00 USD
Sale price
$45.00 USD
Unit price
per
Sale
Sold out
Support your vagina's natural defences. 
UTI Bah Bye + VFF work together to Protect, Promote, and Maintain a healthy vaginal microbiome & urinary tract. 
Say hello to a healthier vaginal microbiome with your new bestie – VFF. This potent probiotic is soon to be your Vagina's Friend Forever, designed to support optimal vaginal pH and balance where it matters most. 
With 50 billion live cultures and 5 essential lactobacillus strains, our signature blend is the ultimate addition to your intimate health routine. Plus, we've added prebiotics to give your V an extra boost. 
Remember, prevention is better than correction when it comes to pesky UTIs. Say Bah Bye to the burning, itching, and discomfor of frequent UTIs with this super-powered daily supplement, ready to defend your urinary tract and provide ultimate bladder health.
Made with all-natural and clinically proven ingredients like Cranberry,  D Mannose, Uva Ursi – the triple support to prevent bad bacteria from entering your urinary tract.
This is the dream duo you need to keep your bladder health at its best, everyday. 

The bundle includes: 1 UTI Bah Bye Supplements and 1 Your VFF Supplements 

The Why

Are you tired of constantly battling with urinary tract infections and feeling like you're always on the losing end? One in five women experience recurrent UTIs—that's an infection that occurs two times or more within six months! Say no more - Introducing the ultimate tag team for urinary tract health, the U-Tract Defender bundle! Made with all-natural and clinically proven ingredients, UTI Bah Bye and Your VFF are here to turn the tables and give you the upper hand in the fight for a balanced vaginal microbiome and optimal urinary tract function.
The Gains

UTI Bah Bye is your secret weapon against the dreaded recurrent UTIs, while also helping to balance your vaginal flora and support overall urinary tract health. And with Your VFF by your side, you'll be boosting your good bacteria, preventing infections, and maintaining your pH balance like a pro. So say goodbye to pesky UTIs and hello to a happier, healthier you - all thanks to the U-Tract Defender bundle!
The How & When

To take the U-Tract Defender bundle, start by taking two capsules of Your VFF supplement and two capsules of UTI Bah Bye supplement once a day, every day. You can take these supplements with or without food, but it is preferable to take them in the morning. If you have any specific directions from your healthcare professional, be sure to follow those as well.
The What's Inside

UTI Bah Bye: Cranberry, D Mannose, Vitamin B6, Nettle leaf extract, Parsley, Uva Ursi, Garlic
Your VFF: Lactobacillus Casei, Lactobacillus Rhamnosus, Lactobacillus Gasseri, Lactobacillus Reuteri, Lactobacillus acidophilus, Inulin, Capsule shell
Share
View full details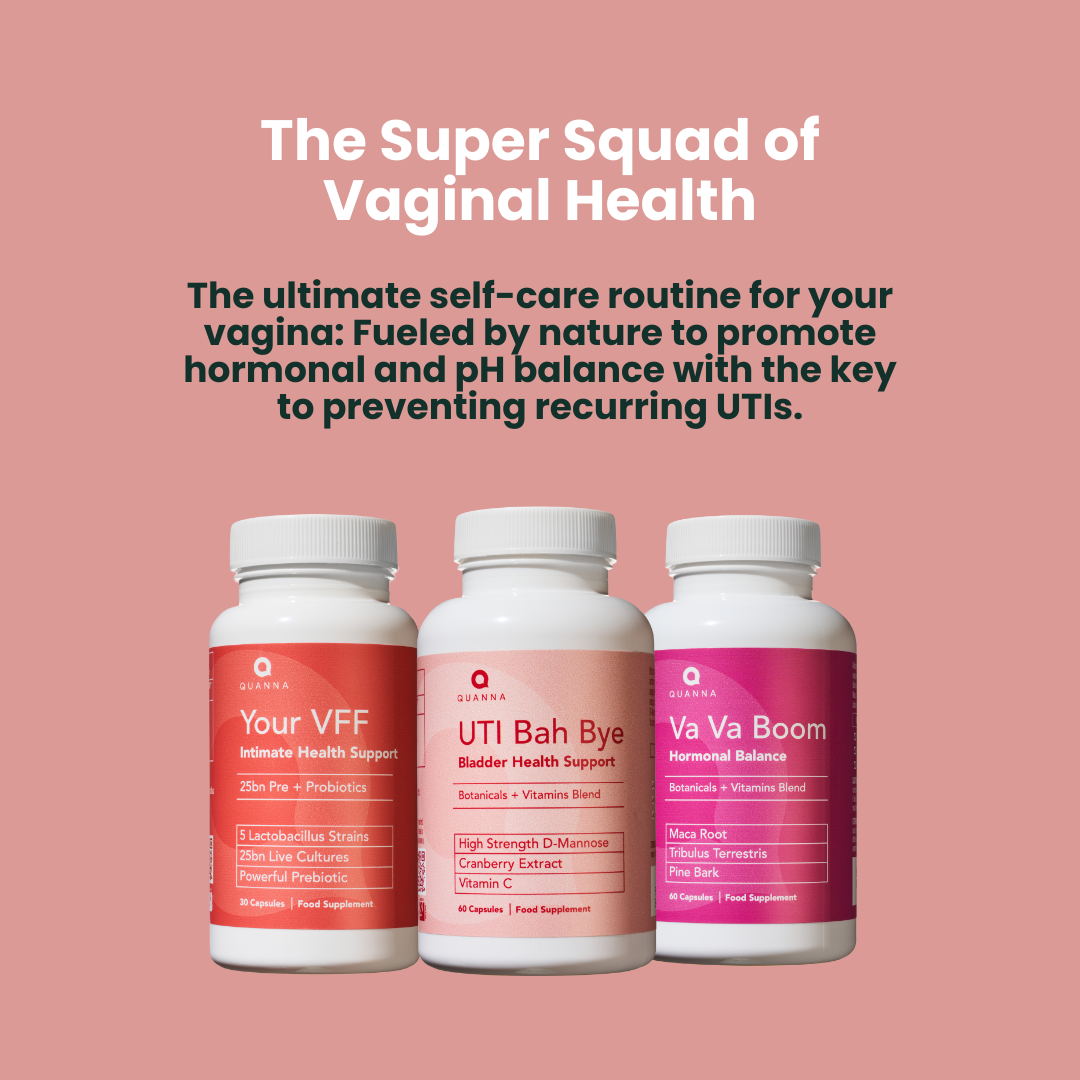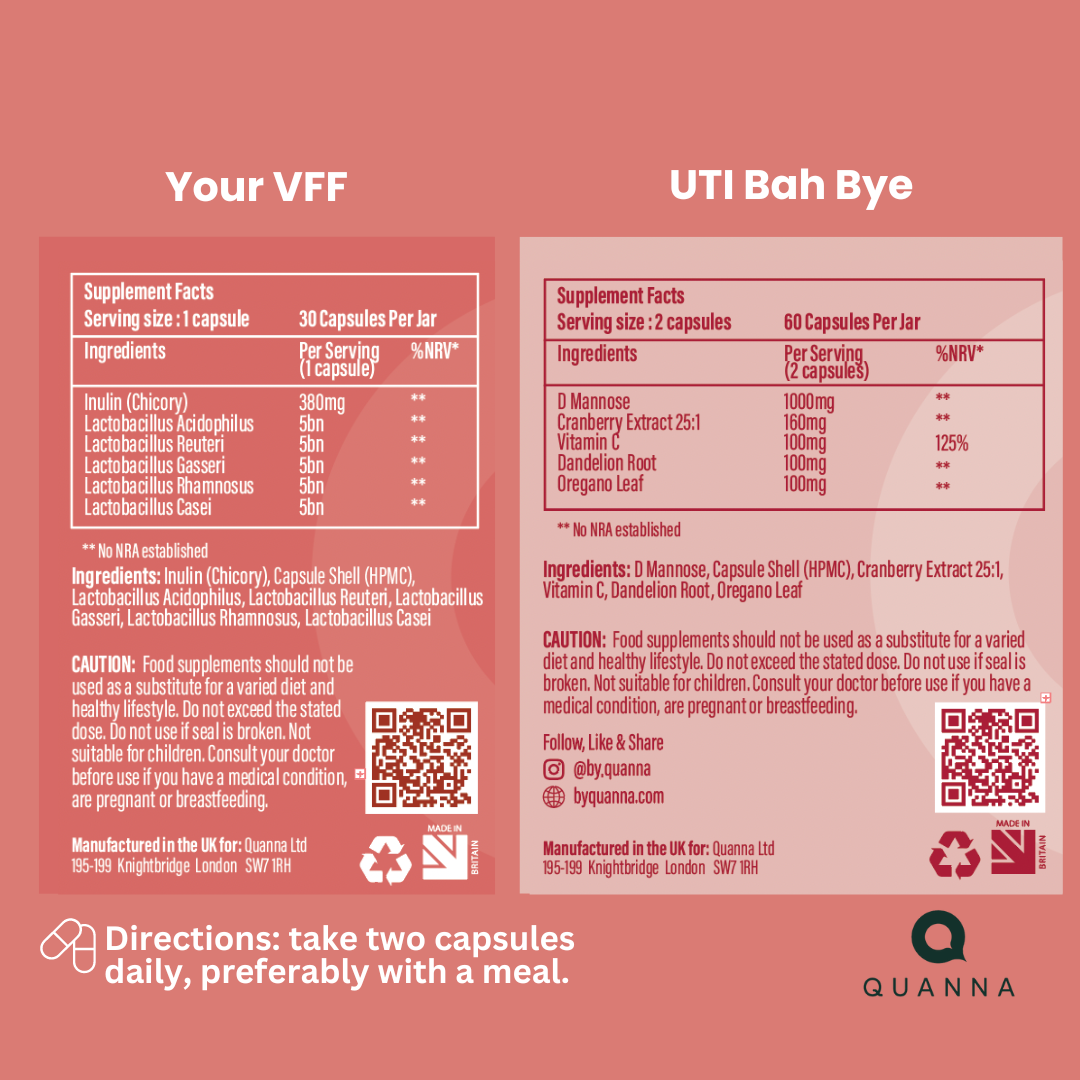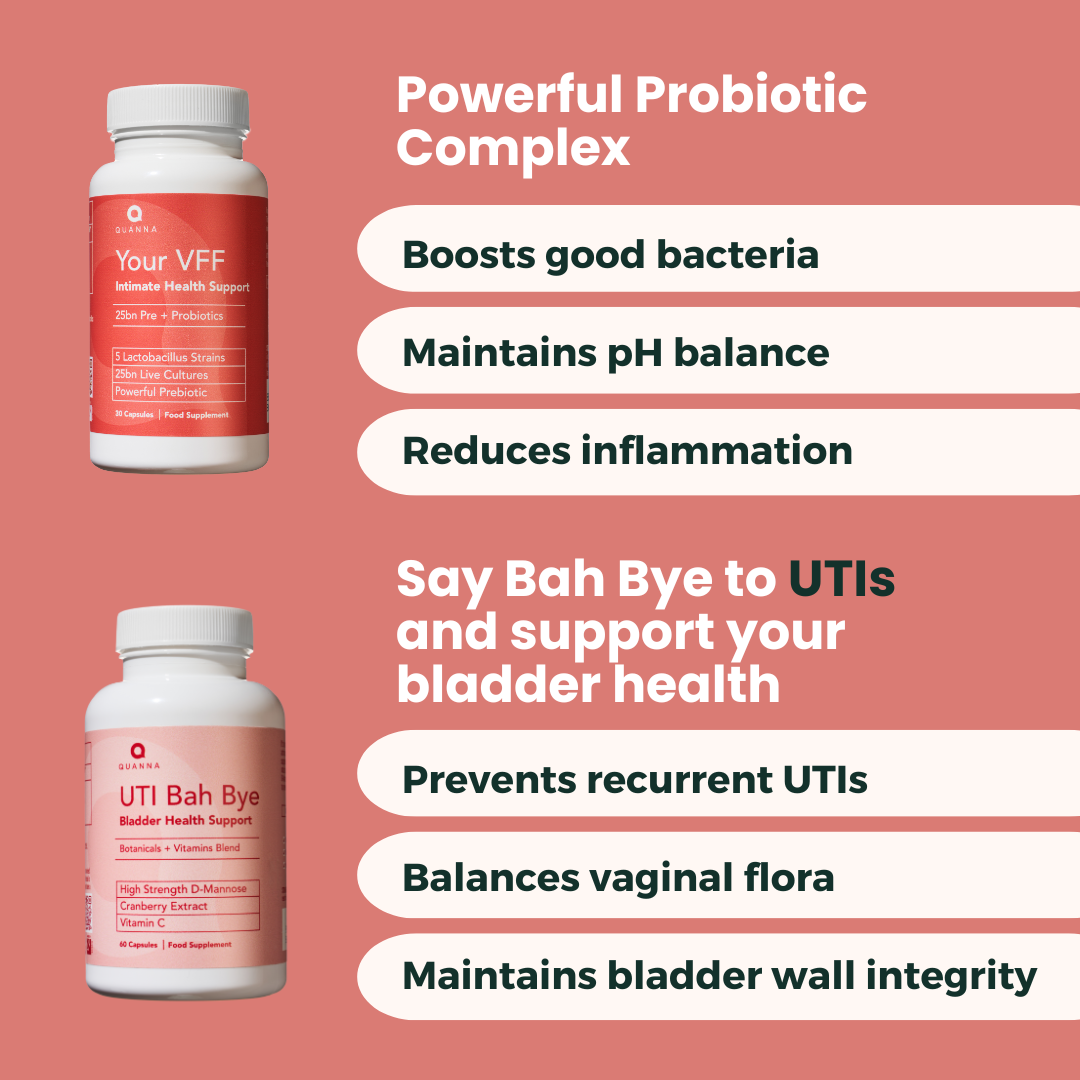 All natural ingredients
pH Balanced
Paraben & Glycerin free
3rd Party Lab Tested
Vegan Formula
Made in the UK
Gynaecologist approved
All natural ingredients
pH Balanced
Paraben & Glycerin free
3rd Party Lab Tested
Vegan Formula
Made in the UK
Gynaecologist approved