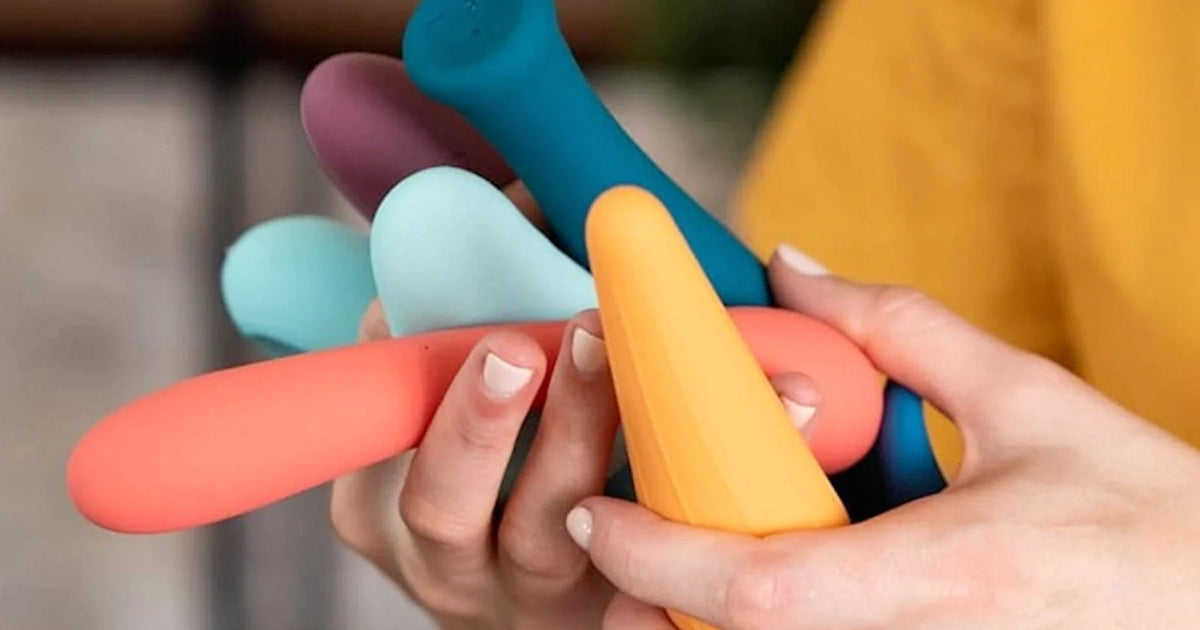 6 of The Best Sexual Wellness Brands in 2023
Sexual wellness has become an increasingly discussed topic, and more importantly, a significant part of our overall health. A myriad of sexual wellness brands are emerging, creating products that not only aim to enhance pleasure but also promote sexual health through sexual education content.
We thought it would be a good idea to research and investigate the top six sexual wellness brands of 2023, exploring their unique offerings and how they're revolutionizing the sexual wellness industry.
The Importance of Sexual Wellness
Sexual wellness is not merely about physical satisfaction. It encompasses various aspects, including relational, emotional, psychological, physical and social health. It's about experiencing fulfilling sexual relationships, expressing oneself sexually, and maintaining both physical and emotional intimacy. Furthermore, sexual wellness is an integral part of overall health and well-being, with the potential to positively influence one's self-esteem, confidence, and overall life quality.
Broad Spectrum of Sexual Wellness Products
There exists a variety of sexual wellness products that cater to diverse needs. These include lubricants for reducing friction during sex, vibrators for stimulating erogenous zones, condoms for safe sex, male enhancement pills for improved sexual function, and female sexual supplements for enhanced sex drives.
Notably, not all sexual wellness products are created equal. Some products may contain harmful chemicals or irritants that can cause discomfort or potential health issues. Therefore, it's crucial to research and choose products made with safe, natural ingredients. Additionally, responsible usage of these products, in accordance with their instructions, is necessary to guarantee maximum effectiveness and safety.
Considerations When Choosing Sexual Wellness Brands
Choosing the right sexual wellness brand can be overwhelming due to the plethora of options available. Here are some factors to consider:
Brand Reputation: Opt for brands with a good track record and positive customer reviews.
Ingredients: Check the product ingredients to ensure they are safe and effective.
Pricing: Compare prices to guarantee value for money.
Product Design: Choose products that are user-friendly and designed to meet your needs.
Another vital factor to consider is the level of customer support provided. Brands that offer excellent customer service, accessibility to customer support representatives, and guidance on product use are preferable.
Top 6 Sexual Wellness Brands of 2023
Let's explore the top six sexual wellness brands for 2023:
1. Quanna
Founded by Dr Dmitry Loktionov, Quanna is a unique brand that brings the benefits of the highest-grade all-natural CBD products to the bedroom. Offering CBD lube, bath bombs, and adult card games, Quanna's products aim to provide ultimate relaxation benefits and enhance your sexual experiences shame-free.
With a commitment to plant-powered wellness, sexual education, and clean ingredients, Quanna is at the forefront of integrating CBD into sexual wellness.
Oomf is an all-natural, water-based CBD lube. Its award-winning, multi-aphrodisiac blend is enriched with prebiotics designed to support vaginal microflora, increase pleasure and reduce any discomfort during sex.
CBD helps to increase blood flow
pH Balanced with prebiotics
Paraben and glycerin free
Non-sticky formula
✓ Pros
Added prebiotics

Gynecologist approved

CBD infused
x Cons
Runny consistency

Big package

Intense sensations
2. Maude
Launched in 2018 by Éva Goicochea, Maude was among the pioneer brands to prioritize intimacy and inclusivity in selling sex products. Maude offers a variety of gender-neutral and affordably priced devices, lubricants, condoms, and bath/body essentials. The neutral-colored product catalog is a testament to Maude's commitment to inclusivity and accessibility in sexual wellness.
Shine Organic lube is made with moisturizing aloe and our 100% natural. The pH-balanced formula is free from glycerin and parabens. Can be used with devices and condoms.
Vegan
Cruelty-free
Fragrance-free
Paraben-free
✓ Pros
pH Balanced

Hydrating

Made in USA
x Cons
Doesn't contain CBD

May dry quickly

Tacky feeling sometimes
3. Dame
Dame's mission is to "close the pleasure gap," making it a brand worth watching. Founded in 2014 by sexologist Alexandra Fine and MIT engineer Janet Lieberman, Dame has broken boundaries with their thoughtfully engineered, ergonomic toys and sex accessories developed to deepen pleasure and connection, solo or with a partner.
Dame Alu is a water-based lube made from organic aloe vera so you can use it with toys and most condoms!
Alu's bottle looks beautiful on your nightstand, plus, it's small design means you can pump with a single hand.
Doctor-approved
pH-balanced
Toy-safe
Organic plant-extracts
✓ Pros
Natural feeling

No residue

Attractive package
x Cons
US shipping only

Not CBD infused

Needs sleeve
4. Cake
Cake is a sexual wellness company that designs lubes specifically for different types of sexual play. Inspired by real couples, Cake aims to make everyone feel good, connect with their partners, and of course, have fun. From anal lubricants to orgasm enhancers, Cake has something for everyone.
Natural Lube is made with an aloe-based formula to help hydrate those private areas.
The formula helps reduce irritation and keeps your intimate parts feeling smooth and clean the whole time.
Discreet packaging
Free shipping over $50
Refund available
Organic ingredients
✓ Pros
Naturally hydrating

Great for sensitive skin

Non-sticky formula
x Cons
Re-apply often

Not great for toy play

Not CBD infused
5. Champ
Champ aims to make buying condoms a breeze with its array of condoms and lubes. Saving you from the awkward experience of buying condoms from a store, Champ brings these essential sexual wellness products right to your doorstep.
Although the packaging looks premium, the price isn't. Champ's products meet the desires of modern consumers: cleaner labels with flexible subscription options to save time and money.
Spermicide-free
Glycerin-free
Parabens-free
BPA-free
✓ Pros
100% all-natural rubber

Medical-grade silicone oil

Stylish packaging
x Cons
Difficult to open

Decreased pleasure

May break
6. Lelo
Lelo is a Swedish lifestyle brand known for its innovative, high-quality, and aesthetically pleasing sexual wellness devices. Since its launch in 2003, Lelo has won multiple awards for its cutting-edge massagers, strokers, couples vibrators, and other intimate lifestyle products.
Lelo's massages are designed to be luxurious to titillate both partners towards better orgasms you won't forget. Perfect addition for experienced toy connoisseurs.
Spermicide-free
Glycerin-free
Parabens-free
BPA-free
✓ Pros
Cleans easily

Sex toy evolution

Partner play
x Cons
Difficult warranty claims

Decreased quality

Limited settings
The Future of Sexual Wellness: Industry Trends and Predictions
The sexual wellness industry is continually evolving, with several trends and predictions shaping its future:
Personalized Products: Brands are expected to introduce more tailored products that cater to individual needs.
Technology Integration: Products will incorporate technology to enhance functionality and user experience.
Increased Accessibility: Products will become more accessible and affordable, reaching a wider audience. In conclusion, sexual wellness is a crucial aspect of overall well-being, and choosing the right brand can significantly impact your sexual health.
With this comprehensive guide, you can make an informed decision that suits your needs best when it comes to choosing sexual wellness brands.
Choosing a selection results in a full page refresh.
Opens in a new window.